Now Christmas is over and we're into the new year, it's the worst time for having festival blues and wishing the summer would hurry up and swing buy so we could get our fix of bands and beer. Luckily, if you're in or around Manchester, you don't have to wait until the summer months for your festival hit.
Not A Summer Fest is a day festival held at Manchester's Gullivers & The Castle, and with a 16 band strong line up, you really cannot go wrong for a ticket price of just £5.00.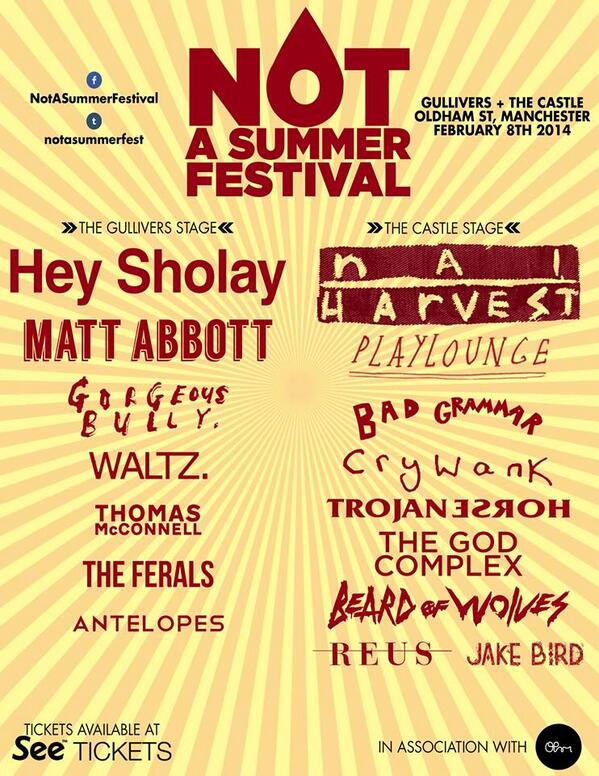 Apart from the ridiculously reasonable price tag, Not A Summer Festival is also made great by the complete diversity of acts on the line up. Headliners for the festival come from the likes of Hey Sholay and Nai Harvest (below), who have recently been praised by NME for their track Hold Open My Head.
Like any new festival, we all want to know what it's all about and where it stemmed from. Not A Summer Festival was set up by James Cordeiro, who wanted to prove you don't need a high price tag for a good line-up of music.
"I woke up one morning and decided, why not? Within 20 minutes of waking up I booked the venues before I could doubt myself about being able to do it. And since then it's all been very exciting and scary as it's my first time putting on something of this scale."
Tickets available from Seetickets and Facebook.
For more information about Not A Summer Festival, visit their website and Twitter.